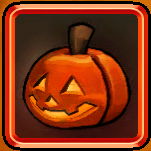 "King of the Pumpkin field. Not afraid to lose his head when things get hot."
— Description
The Pumpking is a character that was was released as a Halloween special in an update. It currently remains the sixth class, after the Unicorn, and precedes the Dragon.
It atttacks by launching it's head, off it's body, so that the head rolls forward, damaging all enemies in the way. The head bounces off walls and can potentially stun the player. The head can handle a certain amount of knocks, eventually smashing to pieces and if the player presses the shoot button while the head is still rolling, it will automatically smash. When the head smashes, a new head grows instantly upon the player's body.
Level
Upgrade Points
Stats
Notes
1
0

Damage


Range

2
1

Damage


Range

3
3

Damage


Range